Do you need Cash Flow without Limits for your Business
Learn how to turn your debtors' book into cash on delivery.
Rand Trust provides tailor-made financial solutions by converting your debtors' invoices into instant cash, no credit limits and no red tape. Grow your company at the pace you choose!
Gets your debtors' book working for you and access cash upfront when you need it most.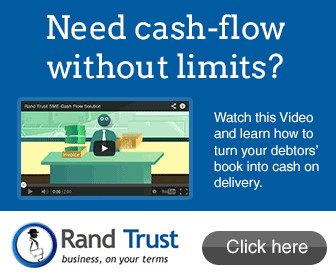 GROW YOUR SALES
Small to Medium Enterprises often fail to achieve their true growth potential because of very restrictive commercial banks. Rather talk to a partner that has the necessary expertise to properly sweat your assets and help access the required cash flow to grow your sales.
GIVE YOUR BUSINESS A BOOST
Whether it's growth you're after or need to improve your daily cash flow, talk to our expert Business Advisors at Rand Trust who'll understand your unique requirements.
For more information please CLICK HERE
Service
Benefits
Terms
Insurance
Cover may include:– Business vehicles and trucks

– Buildings and office spaces

– Business contents and equipment

– Raw materials, stock and stock in transit

– Business liability and legal costs

– Theft and employee dishonest

complete application
Apply Here
Verseker Jouself
– Bespaar gemiddeld 29%
complete application
Apply Here
Rand Trust Business Finance
– tailor-made financial solutions by converting your debtors' invoices into instant cash
complete application
Apply Here
iHound
– Recieve several quotes to suite your business needs
complete application
Apply Here