Product Review
Debt Safe offers their clients a professional way in which they can help them alleviate their debt. Relying on Debt Safe leads to a highly likely chance of clients finding around a 57% reduction of payments that they make each month, as previous clients have already found.
Debt Safe does not compromise efficiency in providing its customers with debt management advice. Their debt counselors are registered, they immediately tell clients if they qualify to be a client of theirs, and they are the only debt counselling company that allows immediate and personal communication with their clients.
Having helped more than 5000 people, Debt Safe can be trusted by anyone who is in debt. Its priority for the safety of its clients is evident in their goal to get their clients in court during the debt review process, in order to distance them from the dangers of creditors. In addition, fees do not have to be paid immediately which helps to put their client's mind at ease.
Application process
To apply for Debt Safe's debt counselling, and to find out more information, simply visit their website and request a free consultation here: www.debtsafe.co.za/freeconsult and a Debtsafe agent will contact you shorty. Should you qualify for debt review, you will be guided along the debt review application process.
Benefits
• Immediate financial relief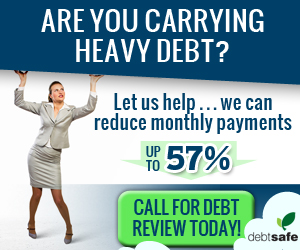 • Reduced monthly installments
• Transparency
• Dedicated debt counselor
• Nationwide assistance
• Professional support
Customer Rating
Vote now by clicking on a star
Additional info
Psychical Address: 40 Van Riebeeck Road, Mokopane, 0600